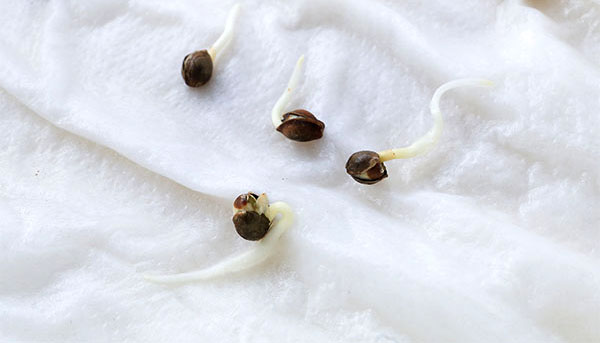 Cannabis seeds are surprisingly hardy little things, and there are dozens of ways to successfully wake them up and make them grow. However, if you're now nervously fiddling with the first pack of beans you've ever bought, you want the simplest and most reliable method, right? This is to germinate cannabis seeds using paper towels.
Step-by-Step Instructions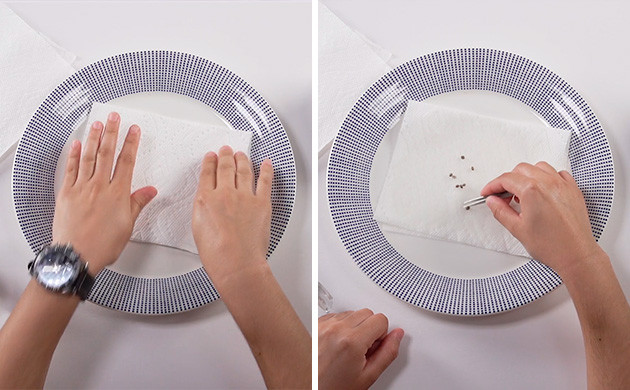 Germinating cannabis seeds in paper towels is as easy as wetting the towel, squeezing out the excess water, and placing one or several seeds between two layers. After that, you should only make sure that the towels don't dry out and stay in a dark warm place until the taproot appears.
Step 1. Buy Good-Quality Cannabis Seeds
Trying to make old seeds germinate can be a nightmare for a first-time grower, so buy fresh, viable seeds from a reputable seed shop such as Herbies.
Step 2 (Optional). Use Hydrogen Peroxide
Water is the only thing you really need for sprouting weed seeds in wet paper towels, and if you're a novice, you probably should stick to the basics. After all, the more complicated the process, the more room for mistakes. On the other hand, using a weak solution of hydrogen peroxide (H2O2) in place of plain water will kill any infection that may lurk on the surface of seed shells.
Pharmacies sell a 3% solution of hydrogen peroxide, and you'll need about 0.5-1%. So, water the solution down by mixing one part hydrogen peroxide with five parts water. If you're confident you can mix a solution of the required strength, go ahead. As an added bonus, according to research. using H2O2 increases the speed of germination in the first 24 hours.
Step 3. Wet the Paper Towel
Use water of drinking quality. If your tap water is chlorinated, it's not the best option for starting marijuana seeds in a paper towel. Let it sit overnight so that chlorine evaporates.
Wet your paper towel and then squeeze out the excess water. The towel should never be dripping wet, just thoroughly moist.
Step 4. Place Your Seed(s) Between Layers of the Paper Towel
The secret to the success of paper towel germination is that layers of paper surround the seed from all sides, creating the perfect environment for sprouting. It provides enough moisture to seep in through the shell and 'turn on' the embryo inside, and there's enough oxygen for the seed not to suffocate.
Hint: If you grow seeds of different varieties, label the strains from the start.
Step 5. Place Everything Between Plates
Don't let the moisture evaporate before the germination takes place. The easiest way to ensure this is to place the paper towel between plates and put them in a dark warm place, such as a kitchen drawer. Darkness and warmth are essential because this emulates the seeds' natural environment - the moist soil in late spring.
Step 6. Check Your Pot Seeds Every 12 Hours
When germinating cannabis seeds in paper towels, you want to plant them as soon as they show taproot. Some growers prefer that it reaches about a half-inch (1cm), but it usually needs just a few hours after cracking to grow this long. You may want to do the first check after 24 hours and then every 12 hours after. Good viable seeds usually take no more than 48 hours, with a germination rate of above 90%.
What to Do After Seeds Germinate in Paper Towels
When you germinate pot seeds using the paper towel method, you have the advantage of knowing within the first day or two that your seeds are not duds but very alive and healthy. Then you can breathe out and put your germinated beans in the medium of your choice.
Place the seed half a centimeter (a quarter of an inch) deep into the medium (soil, coco, jiffy plug, rock wool, etc.) and cover it with more medium. Make sure it's moist but not soaked with water. At this point, you may start to monitor the pH. It should be around 6.0-6.5 for soil and 5.5-6.0 for soilless mediums. The correct pH levels will help your seedling with absorbing the nutrients.
As soon as the seedling shows above the surface, it needs to receive light. You may also want to help it shed the shell by wetting and gently removing it with tweezers or your fingers.
FAQ:
How long does it take to germinate cannabis seeds using paper towels?
Depending on the quality of the seeds and whether they're fresh or old, it usually takes about 12-48 hours for most seeds to germinate. In extreme cases, it could take up to 7 days, but then there's no point waiting. In this situation, learn about the tricks of making old seeds germinate.
When to transplant seeds from paper towels?
You can transplant germinated seeds as soon as they crack and their taproot is visible, but you might want to wait for several hours more so that the taproot grows to something like 1cm (half an inch). After that, there's no point in delaying the transplant.
What to do if seeds are not germinating in paper towels?
If you have trouble germinating seeds, check the conditions. Paper towels should be moist, the seeds should be kept in darkness, and the temperature should be reasonably warm - around 25°C (77°F). Of course, weed seeds can germinate well outside this range, let's say 18-28°C (65-82°F), but the speed and success rate won't be as good with temperatures too warm or too cold. If the conditions are fine but the beans still fail to sprout, maybe the shell is too hard for moisture to seep in. This happens a lot with old seeds that have dried out too much. Use sandpaper to scarify your seeds or very gently crack them along the seam. Then repeat the whole germination process.