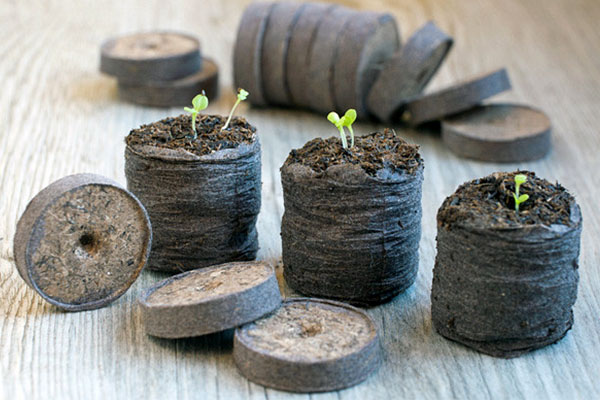 Not all germination methods are equally successful. Some will disappoint you, while some can surprise you in quite a positive way. One of those methods that tends to provide awesome results and is quite simple and easy to achieve is germinating cannabis seeds in peat pellets.
Before we head onto the actual process of germinating marijuana seeds in peat pellets, let's check out what the benefits of using jiffy peat pellets are and why you should choose this method of germination.
What are the Benefits of Peat Pellets?
If you're not yet sure whether this method is suitable for you, check out some of the main benefits of using peat pellets to germinate your seeds below!
They are easy to work with.
Peat pellets are super easy to work with. They are lightweight and highly compressed and they transport quite well. They can be planted into small and large containers or directly into the ground.
They are the full package.
Peat pellets are a container and a medium all in one. They meet all the requirements your seeds need to grow with a consistent quality. They require less labor, less water and provide faster and better germination.
They are eco-friendly.
Using peat pellets means growing in a medium that's safe for the environment since its biodegradable, unlike other popular choices like rockwool.
Step-by-Step Guide to Germinating Marijuana Seeds in Peat Pellets
Now that you're familiar with the benefits of using peat pellets to germinate your cannabis seeds, let's go over the entire process step-by-step so you can consistently record higher and faster levels of germination and get a more consistent quality and results.
Jiffy pellets have easy to follow instructions, particularly suitable for novice growers. Here are the main steps you need to follow when germinating marijuana seeds in peat pellets:
Step 1: Get your container and your pellets ready
While you can use any type of container, ideally you should get a pellet tray that acts as a pellet holder and can typically contain up to 25 pellets per tray.
Make sure your pellets don't overlap and have small borders between each so they can extend as they soak up the water.
Step 2: Cover with water
Pour water onto the tray to expand the pellets. Use warm water (up to 95°F/35°C) to help them expand faster. While you can use both tap or distilled water, we recommend using distilled or purified water so as not to expose the seeds to harmful substances which can be found in tap water, such as certain minerals. Keep on pouring water as they soak it in, allowing them to rise up and fully extend. Repeat the process as long as it takes until your pellets have fully risen and are ready for planting. Once they do, remove all of the excess water from the tray and head onto the next step.
Step 3: Place your seeds
Once the pellets have fully expanded, take your seeds and place one in each pellet. Place them in the middle at about 3/8 of an inch (1cm) or so. Don't put them in too deep as this will prevent them from sprouting.
Once you plant the seeds, cover them with the excess peat from the sides and cover the tray with a lid or a plastic wrap. If you decide to purchase the specialized peat pellet tray, you'll see that it comes with a humidity lead that goes on top, so use that one to cover your tray.
Step 4: Continue watering
You will need to water the pellets in around a week after planting your seeds. Just make sure not to water them from the top down as this can disturb the germination process. Keep your tray by a window or a warm, sunny spot and just wait for the seeds to sprout in a few days.
Step 5: Transplant
After about two weeks your seeds should be ready for planting. Then, you can plant each pellet directly in the soil or in a pot, depending on your preference.
As you can see, germinating weed seeds in peat pellets is an easy process that doesn't require a lot of work. However, if you still have some unanswered questions on the subject, we hope this list of some of the most commonly asked questions on the subject can help answer some of your dilemmas.
FAQ
Is there a certain way to plant cannabis seeds in peat pellets?
Yes, there is. To make sure you get the best results, you'll want to place your seeds about 3/8th of an inch (1cm) deep, as if you plant them deeper within the pellet, they may not sprout.
Can I germinate autoflower seeds in peat pellets?
Absolutely! Germinating autoflower seeds in peat pellets is a simple and easy process and it follows the same steps as germinating any other marijuana seeds.
How many days does it take to germinate a cannabis seed?
Once planted, the seeds should start to sprout within two days, but it may take up to a week. Once they've sprouted you can remove them from the tray and plant them in soil at any point after they've sprouted, although we recommend waiting for a week or two to make sure they are ready for planting.
What if I don't have access to peat pellets?
While this is quite an effective and sustainable way of germinating seeds, there are a few other ways you can use to achieve the same results. Germinating marijuana seeds in water is also a perfectly viable and safe option and can provide excellent results, which is great when you don't have pellets at your disposal and are looking for an alternative solution.