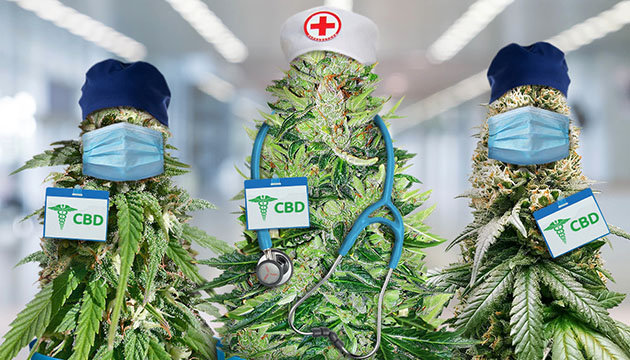 If you're interested in using cannabis for its potential health benefits, you may have heard of high CBD strains. These strains are specifically bred to contain higher levels of cannabidiol (CBD) and lower levels of tetrahydrocannabinol (THC), the psychoactive compound that produces the "high" associated with marijuana use.
In this article, we'll explore the benefits of high CBD strains, recommend some of the best strains available, and provide tips on how to choose the right one for you.
What are High CBD Strains?
High CBD strains are cannabis strains that have been specifically bred to contain higher levels of CBD than THC. While THC is known for its psychoactive effects, CBD is non-psychoactive and is believed to have a range of potential health benefits.
Some high CBD cannabis strains may also contain some THC, but typically in very low concentrations. These strains are sometimes referred to as "high CBD low THC strains".
Benefits of High CBD Strains
Research has suggested that CBD may have a range of potential health benefits, which can make high CBD marijuana strains appealing to some people. Here are some of the potential benefits of using high CBD strains:
Relief from pain and inflammation
Reduction in anxiety and depression
Treatment of epilepsy and seizures
Management of side effects from chemotherapy
Improvement of sleep quality
Best High CBD Low THC Strains
There are many different high CBD weed strains available, and the best one for you will depend on your individual needs and preferences. Here are some of the most popular and highly regarded high CBD strains with low THC levels:
CBD Harlequin
If you're looking for the best CBD strains to grow, CBD Harlequin by Kera Seeds is definitely worth considering. This plant is a Sativa-dominant hybrid, cultivated specifically for high CBD and low THC content. The slender buds have a subtle woody aroma and taste, and are loaded with cannabidiol.
When smoking Kera CBD Harlequin, it provides an exciting feeling and a balanced high. It offers a range of physiological effects, providing relief for symptoms such as stress, pain, and fear. The effects on the body and mind are liberating, allowing for a combination of consumption and daily life.
The plant has a moderate ease of growing, making it suitable for beginners. The flowering time is around 6-7 weeks, with a medium yield both indoors and outdoors. The THC level is low, at only 0.2-0.36%, while the CBD content is high, ranging from 10-13.07%. With its genetic background of Harlequin and Black Domina, Kera CBD Harlequin is a top choice for those seeking the benefits of CBD.
CBD Charlotte's Angel
CBD Charlotte's Angel by Dutch Passion is a sativa-dominant hybrid strain of cannabis known for its high CBD content, with an average of around 15%, and its low THC content, which is always below 1%. The strain has a herbal aroma with notes of diesel, citrus, and pine, making it unique and pungent. It is a tall and strong plant with large buds and a medium to long flowering time. CBD Charlotte's Angel has won three cups, including the Highlife Cannabis Cup in the Netherlands, the Expogrow in Irun, and the CBD Rich Cup in Spain. It has a relaxing, calming high and is popular among both medical and recreational users looking for a high-CBD strain. This strain is suitable for both the SCROG and SOG cultivation methods and is known for its vigorous growth during the vegetative and flowering stages. It is recommended to gradually increase nutrient dosage and to grow it organically. CBD Charlotte's Angel is perfect for those who want to smoke something tasty without getting stoned.
CBD ACDC
CBD ACDC by Blimburn is one of the highest CBD strains available in the market with a CBD range of 20%-28% and a low THC content of 0.5%-0.8%. This hybrid strain is a result of the cross between Queen Mother and NYC Diesel, and has a citrus, earthy, herbal, and lemon flavor profile. CBD ACDC is ideal for beginners, and is easy to grow both indoors and outdoors, producing compact and CBD-rich buds within 8-10 weeks. It is a great medical cannabis strain for depression, insomnia, and muscle spasms. The effects of this strain are happy, relaxed, and uplifted, without making you feel high.
Tatanka Pure CBD
Tatanka Pure CBD by Royal Queen Seeds is a high-CBD strain that is named after the famous Native American medicine man Tatanka Iyotake, also known as Sitting Bull. This indica-dominant hybrid strain is created by crossing two high-CBD strains, Elixir Vitae and Medical CBD. It has a high CBD content of 9-14% and a low THC content of 0.15-0.25%, making it a perfect choice for those who want the benefits of CBD without any psychoactive effects. Tatanka Pure CBD has a calming, clear-headed, and stress-busting effect that provides momentary relaxation and zen. It has a candy, fruity, and pepper flavor and an unusual yet pleasant smell that emanates scents of caramel and bitterness.
Tatanka Pure CBD is easy to grow, with a flowering time of only 6-8 weeks. It produces a substantial yield of up to 450g/m² when grown indoors and up to 450g/plant when cultivated outdoors, reaching a height of 100-160cm. It is best grown in short summers and is ready for harvest in early October. Tatanka Pure CBD is a popular choice among those who are looking for marijuana strains high in CBD for their medical benefits.
CBD Harle-Tsu
CBD Harle-Tsu (aka Harlequin Tsunami) by Blimburn Seeds is a mostly Sativa strain that is high in CBD and low in THC. It was developed from an extremely potent female plant, Harle-Tsu x Harle-Tsu, and has gained recognition in the cannabis world for winning the Highest CBD award at the Emerald Cup two years in a row, in 2012 and 2013. With CBD levels up to 20% and only 1% THC, this strain is known for its medicinal properties, particularly for treating arthritis, insomnia, pain, stress, and anxiety. The flavor is a mix of spicy, sweet, and woody notes, and it has a happy, hungry, and relaxed effect. Harle-Tsu is easy to grow and produces 350-400 gr/m² indoors and 550-600 gr/plant outdoors. It is ready to be harvested after 8-10 weeks of flowering. It is recommended to use the LST method for optimal indoor cultivation.
Buddha Medikit
Buddha Medikit by Buddha Seeds is an Indica-dominant hybrid strain with high CBD levels up to 20% and a low THC content of 1%. It has a flowering time of 75 days and yields around 450-480 gr/m2² when grown indoors and 1-1.5Kg per plant when grown outdoors. Its flavor is a combination of sweet and citrusy notes, such as lemon, orange, and/or mango, with earthy and pine undertones. The strain provides an elegant and complex sensation to the palate, and its high terpene levels convey the best nuances. The effects of Buddha Medikit are mood-enhancing and calming, making it an excellent option for reducing anxiety and tension. Medikit's growth is explosive, and its flowering is sublime, producing voluminous and compact flowers coated with a crystalline layer of resin. This strain has significant medical uses, making it an excellent option for those seeking strains with high CBD.
CBD Northern Lights
CBD Northern Lights by Seedstockers is a perfect strain for those looking for the best high CBD strains to grow. With a CBD level of 12% and THC content of less than 1%, this strain provides a relaxing effect, making it ideal to combat pain and discomfort. The candy-like flavor of the strain, along with its aroma of earth, pine, citrus, and gas notes, makes it a delight to consume. The strain is a cross between Northern Lights (IBL) and CBD Critical XXL, leading to a CBD-rich plant that produces dense, resinous, and sticky buds. Inhaling Northern Lights' CBD flowers opens the door to one of the most relaxing and peaceful experiences you'll ever have. This strain doesn't beat around the bush when it comes to her medicinal powers: she's an ultra soothing machine that clears the mind and mitigates physical tension like no other, replacing it with a slight euphoria that will probably make you smile for hours.