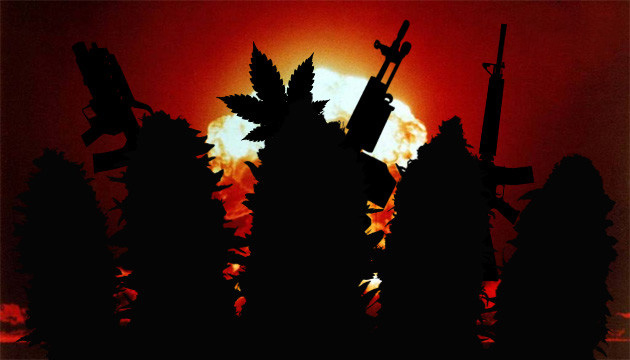 As one of the two main subspecies of cannabis, it's no surprise that the strongest Indica strains are beloved by growers all around the world. From experienced cultivators to casual smokers, everyone can appreciate the genetic profile and chemical composition of these potent strains. Before we reveal our top ten list, let's take a moment to appreciate the benefits of Indicas.
Thanks to their origins, Indicas are tolerant of colder temperatures, making them suitable for outdoor cultivation in a wide range of regions. And if you prefer indoor growing, Indicas are also a great choice. Their compact and bushy plants make them easy to care for and fit into smaller spaces.
While Indicas may be shorter in stature, they can produce generous yields that are often larger than those of Sativas. And don't let their lower THC content fool you - there are some incredibly heavy and potent Indica strains out there. Indicas are typically higher in CBD, a cannabinoid known for its medicinal properties. This is why many people see strong Indica strains as night-time strains, perfect for inducing a happy and sleepy couch lock or a case of the munchies. But let's not forget the rumors of extreme potency in some Indica strains. Even Sativa lovers may envy the possibilities that high-THC Indica strains can offer. So, without further ado, let's dive into our list of the top ten strongest Indica strains in the world!
Strongest Indica Strains
If you're looking for the most potent Indica strains, you're in luck! Below, we have compiled a list of some of the strongest Indica strains available in the market.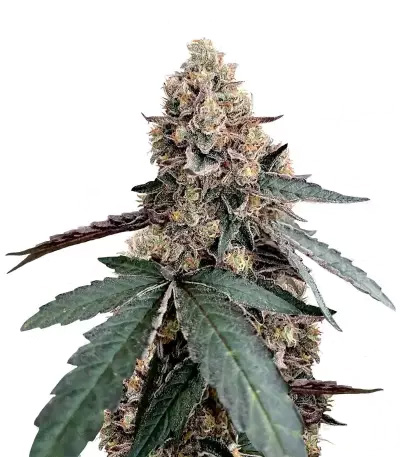 Runtz Muffin
Runtz Muffin by Barney's Farm is the strongest Indica strain, boasting THC levels of up to 29%. This feminized strain is a cross of Zkittlez x Gelato #33 x Orange Punch, resulting in a well-balanced hybrid with 70% Indica and 30% Sativa. The buds are dense and dripping in an intoxicating syrup, with flavors of creamy fruit candy, pineapple, and citrus. The aroma is a delightful mix of tropical sugary-sweets, spicy pineapple, and orange candy. Subtle purple and deep green hues can be found on the finished buds, making it a joy to behold.
The effects of Runtz Muffin are uplifting, euphoric, relaxing, and deeply calming. It quickly delivers you to another level of relaxation, shattering any mental tensions and ensuring that you can carry on through your day, protected from any worries by a glimmering ring of staggering positivity.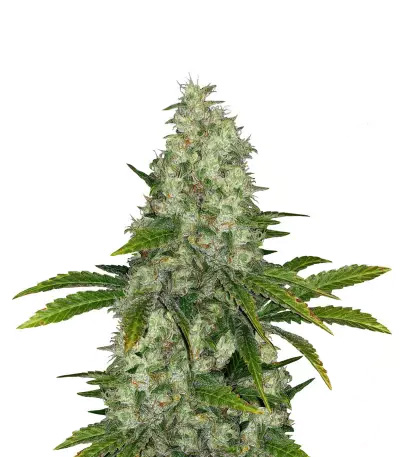 Do-Si-Dos OG
Do-Si-Dos OG by Original Sensible Seeds is considered the most potent Indica strain with a dominant 70% Indica and 30% Sativa. This feminized strain has a high THC level of 28% and a flowering time of 60 to 65 days. The buds are dense and covered in a thick resin coating, with a lime green and lavender hue. The aroma of this strain is a combination of fruity and pungent with light diesel, hardwood, and herbal back notes. It has a sweet taste with a floral tone due to the calming limonene terpene, caryophyllene, and linalool. Do-Si-Dos OG strain produces high yields of up to 600g/m2 indoors and 800g/plant outdoors. The effects of this strain are instant and strong, hitting the body hard and quick with a sneaky sativa twist to liberate the mind and bring back energy.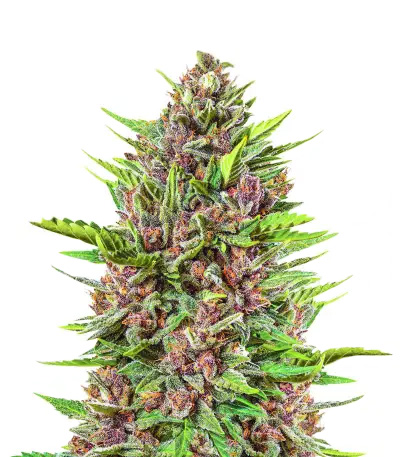 Strawberry Pie Auto
Strawberry Pie Auto by FastBuds is an autoflowering, feminized strain that belongs to the heavy Indica strains with 85% Indica and 15% Sativa. It has an extremely high THC level of up to 26%, making it one of the most potent strains of Indica out there. In addition to its potency, it also produces up to 550gr/m2 of chunky, light green buds with pink, purple, and red highlights, contrasted by long orange pistils, and covered in frosty trichomes.
This strain has a skunky strawberry candy taste, which is a complex blend of cookie-dough, cream, and gas. Its aroma is fruity and delicious with a hint of red berries and cookie dough. The effects of this strain are well-rounded, providing a relaxing body high while also leaving you centered and alert. It is perfect for afternoon or night time smoking when you need to unwind but still want to be functional.
Strawberry Pie Auto is easy to grow and performs well indoors and outdoors. It prefers light feedings and requires appropriate pH levels to avoid stunted growth. To enhance its colors and flavor, it is recommended to flush during the final weeks before harvest. Overall, Strawberry Pie Auto is an excellent choice for those seeking a fruity, potent, and relaxing strain that is easy to grow and produces high yields. If you're a fan of strawberry weed strains, you'll fall in love with Strawberry Pie Auto.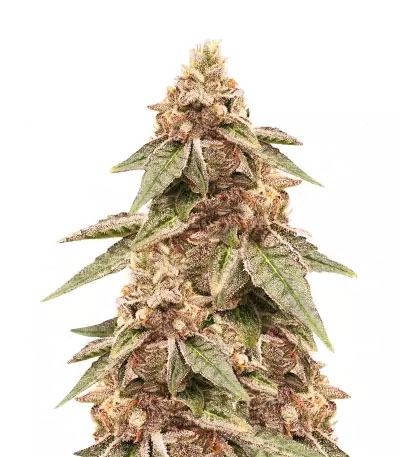 Grandaddy Purple
Grandaddy Purple by Blimburn Seeds is one of the heaviest Indica strains with a THC level of up to 25%. This mostly Indica hybrid strain is a cross between Purple Urkel x Big Bud and has a fruity, berry flavor with high levels of camphene, linalool, and valencene terpenes, which are known for their arthritis, insomnia, and pain-relieving properties.
The Grandaddy Purple buds are extremely dense and saturated with resin, which gives them a glistening appearance from the abundant trichomes. They almost appear extraterrestrial and are coated with an excessive amount of resinous trichomes. The taste and flavor profile is a harmonious mix of berry and fruit notes. Grandaddy Purple provides a smooth smoking experience and produces a variety of effects, resulting in a strong and relaxing high. Its exceptional genetics yield a top-quality cannabis strain that is difficult to surpass.
When growing this strain, it is important to use a quality substrate and provide good nutrients to the plants during their vegetative and flowering periods.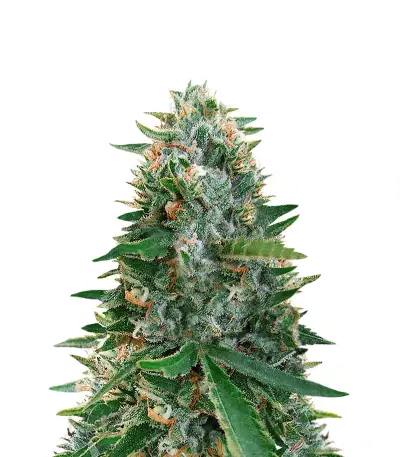 Sugar Black Rose Early Version
Looking for the best Indica strains with high THC? Look no further than Sugar Black Rose Early Version by Delicious Seeds. This strain boasts a THC content of up to 25%, with a Sativa/Indica ratio of 20%/80%. The sweet fruit flavor and aroma of this strain make it one of the tastiest Indicas around. Indoors, Sugar Black Rose Early Version can be a short, compact plant, but outdoors it can get very tall with large secondary branches. The buds have a sweet, fruity fragrance with a taste like mature grapes and flowers, with a touch of skunk. The effect is instantaneous and long-lasting, providing a deeply relaxed state with mild cerebral stimulation. This strain is also suitable for medicinal usage. With indoor yields of up to 540g/m2 and outdoor yields of up to 900g/plant, Sugar Black Rose Early Version is a top choice for Indica enthusiasts.
Strongest Pure Indica Strains
Pure Indica strains are cannabis strains that contain no Sativa genetics, and are therefore 100% Indica. These strains are known for their heavy sedative effects and are often used for medicinal purposes to help alleviate symptoms such as chronic pain, muscle spasms, and insomnia. Here is a list of pure Indica strains with high THC levels available today.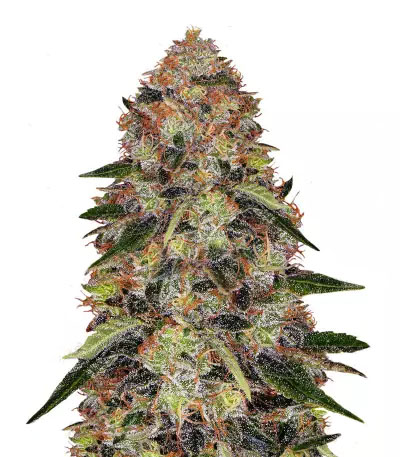 Shiskaberry
Looking for one of the strongest pure Indica strains with a complex cannabinoid profile? Look no further than Shiskaberry by Barney's Farm. This 100% Indica strain boasts an impressive THC level of up to 26% and produces earthy, spicy flavors with a pungent berry aroma that will leave a memorable aftertaste. Shiskaberry's effects are well-rounded, providing a happy and creative high while also delivering a relaxing body buzz. Indoor yields can reach up to 500-600 gr/m² in just 50-55 days of flowering, while outdoor plants can grow up to 1.2 meters and deliver up to 2kg of super quality flowers. For those looking for a unique and delightful Indica experience, Shiskaberry is the perfect choice.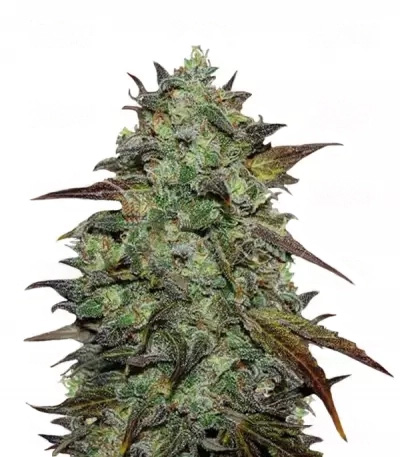 Eleven Roses
Eleven Roses by Delicious Seeds is one of the strongest strains of Indica with THC levels reaching up to 24.8%. A cross between Appalachian Kush and Sugar Black Rose, this feminized strain has a sweet fruit taste with subtle earthy notes. The plant is fairly quick to flower and is undemanding to grow, making it a great choice for beginner growers. With its incredible coloration, the leaves resemble an autumnal day in the great forests of the north, making it a fascinating strain to grow. It is also resistant to mold and pests, and produces a high yield with just one plant. Overall, Eleven Roses is a superb plant that will not disappoint.
Critical Kush
If you're looking for strong Indica weed strains, you might want to consider Critical Kush by Barney's Farm. This hybrid strain is a cross between Critical Mass and OG Kush, resulting in a plant that is both vigorous and powerful. With 100% Indica genetics, Critical Kush is perfect for relaxation, pain relief, and late-night smoking. In addition to its crystal-covered buds and aromatic earthy, herb, and fuel aroma, Critical Kush has a taste that is a delightful blend of fresh pine, lemon pie, and tangy flavors. With a flowering time of 55-60 days and an indoor yield of up to 650 gr/m², this medium-height plant is a significant advance in modern marijuana breeding. Critical Kush has a stimulating effect that can be followed by a calming and relaxing sensation, making it an excellent choice for those looking for a powerful Indica strain.