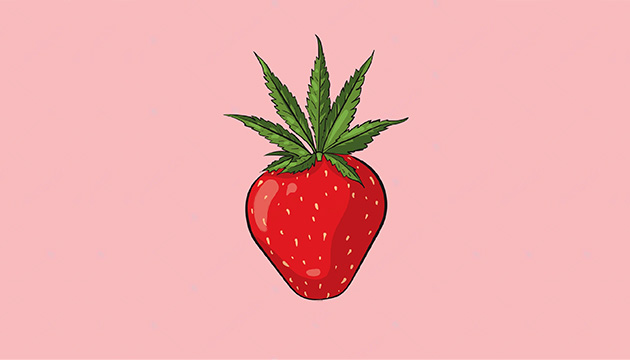 When it comes to cannabis strains, there are many flavors and aromas to choose from. One popular option is strawberry cannabis strains, which offer a sweet and fruity taste and aroma. These strains are named after their distinctive strawberry flavor and are highly sought after by many cannabis enthusiasts.
Strawberry cannabis strains have been around for many years, but their popularity has increased in recent times. This could be due to the growing interest in flavored and scented cannabis strains or the increasing number of people turning to cannabis for its potential therapeutic benefits. Below we will explore the best strawberry cannabis strains available on the market today.
What makes a strain a "strawberry" strain?
Strawberry cannabis strains are known for their distinct sweet and fruity flavor and aroma, which resembles the scent of freshly picked strawberries. These strains are often hybrids that combine both Sativa and Indica genetics, creating a balanced and enjoyable experience for the user.
The unique taste and scent of strawberry cannabis strains come from their terpene profile. Terpenes are the aromatic compounds found in plants, and different strains of cannabis have varying terpene profiles that contribute to their unique characteristics.
Common terpenes found in strawberry strains include myrcene, limonene, and beta-caryophyllene. These terpenes play a crucial role in the effects and taste of the strawberry strains, and their presence in different ratios can lead to varying effects.
It's important to note that the effects and flavor of a strain are not solely determined by its terpene profile. Other factors, such as the cannabinoid content, can also play a role. However, terpenes are an important component of the overall experience and can help you identify and choose the best strawberry cannabis strains for your needs.
Overall, the terpene profile of strawberry cannabis strains is what makes them stand out among other strains. Their sweet and fruity flavor and aroma are highly desirable, making them a favorite among cannabis enthusiasts.
Top Strawberry Cannabis Strains
If you're a fan of the sweet and fruity flavor of strawberries, you might be interested in trying out some of the many strawberry marijuana strains available. In this article, we've compiled a comprehensive list of strawberry marijuana strains that are sure to delight your taste buds and provide an enjoyable cannabis experience. Whether you prefer Sativa, Indica, or hybrid strains, this list has something for everyone. So, grab your favorite smoking device and get ready to explore the delicious world of strawberry strains.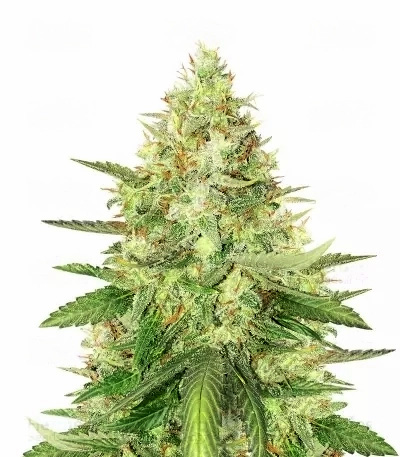 Strawberry Cough
If you are looking for a strawberry flavored weed strain, then Dutch Passion's Strawberry Cough may be the one for you. This sativa-dominant hybrid cannabis strain boasts a delicious, fresh scent and a sweet strawberry taste with a hint of spice. With 15-20% THC and 80% Sativa and 20% Indica, it delivers a clear, social, and euphoric high that is especially popular with creative individuals. The plants are relatively easy to grow and suitable for all grow techniques and mediums. The buds are covered in trichomes with occasional reddish pistils and colorful purple/pinkish hues in the flower and leaves. Strawberry Cough exhibits an especially rich and flavorful range of terpenes that any cannabis connoisseur will simply adore. This strain is a perfect choice for those looking for an easy to grow Sativa with a great high.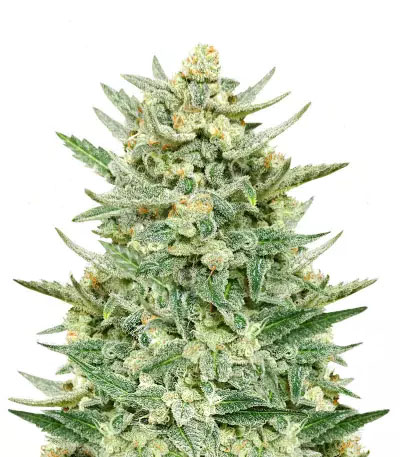 Strawberry Banana Auto
Strawberry Banana Auto by FastBuds is an exceptional strain for those seeking the best strawberry weed strain. This autoflowering, feminized strain is impressively potent, with THC levels of up to 27%, making it one of the most THC-rich strains available. It grows up to 150cm tall and has a high yield of up to 600gr/m2. With a fruity terpene profile that gives off a strong aroma of strawberries and bananas, it's one of the best strawberry smelling weed strains. The buds are thick and elongated, with a light-green color and thin, bright yellowish-orange hairs, covered in a thick layer of trichomes. When smoked, it offers a powerful hybrid effect, starting with a mild head buzz that turns into a euphoric, uplifted cerebral high, followed by a corporal buzz that slowly sedates the body. With its sweet taste and powerful effects, it's recommended for those with high tolerances and medicinal patients looking to alleviate chronic pain, appetite loss, or severe anxiety.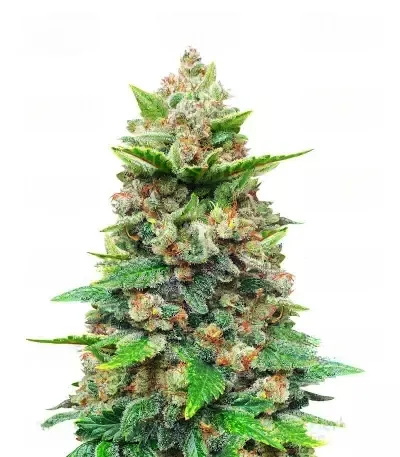 Strawberry Gorilla Auto
If you're looking for the best strawberry weed strains, Strawberry Gorilla Auto by FastBuds should be on your list. This balanced strawberry hybrid strain is a 55% Sativa and 45% Indica autoflower, feminized with THC levels of 28.4% and CBD levels less than 1%. The strain won 1st Place Champion in the first American Autoflower Cup in Los Angeles in January 2023. It's one of the strongest autos on the planet, with a total of 29.86% of total cannabinoids, making it a perfect all-day smoke.
The rare terpene profile of Strawberry Gorilla Auto gives it an intense strawberry taste that's unmatched. At the recent Farmer's Cup, it took home the title of 'Highest Combined Terpenes' in the 'Home Grow Hash' category with an impressive 97.163 mg/g total terpene content. Strawberry Gorilla Auto's nugs are extremely frosty, producing lime-green buds with oversized spade-shaped tips and bright-orange hairs that add beautiful fuzzy streaks of golden throughout the buds.
This autoflower offers a powerful hybrid high with an intense feeling of happiness that boosts creativity and opens up the mind artistically. It can treat muscle pain and appetite loss while still leaving your mind and body deeply relaxed. This is a perfect choice for those looking for a day-and-night autoflower.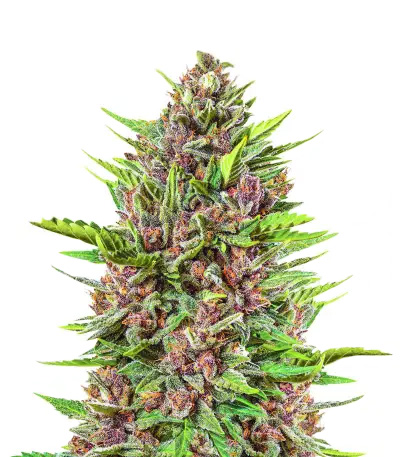 Strawberry Pie Auto
Strawberry Pie Auto by FastBuds is an autoflowering feminized strain that delivers a delicious strawberry aroma and taste with a high THC content of 26%. This Indica-dominant strawberry strain has a unique appearance with pink, purple, and red highlights contrasted by long orange pistils that make it very attractive. It has a well-rounded relaxing effect that leaves you centered and focused without being too sedated, making it perfect for afternoon or nighttime use. It grows compact and bushy and can yield up to 550gr/m2 of chunky and dense light green flowers with pink, purple, and red highlights. Strawberry Pie Auto is a great choice for both indoor and outdoor growers, especially those who want to make extracts or hash due to the insane amount of trichomes it produces. It has won no awards yet, but its bag appeal and fruity taste are sure to make it a fan favorite among strawberry tasting weed strains.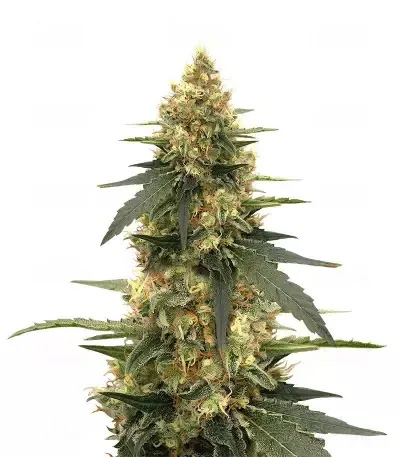 Strawberry Lemonade
Looking for the best strawberry strains of weed? Look no further than Strawberry Lemonade by Barney's Farm created by crossing two parent strains: the highly potent and mostly sativa Strawberry strain and the Lemon OG strain. With a 60% Sativa and 40% Indica blend, this feminized photoperiod strain has a THC level of over 20% and is sure to delight with its fruity taste and aroma. An array of fruity terpenes transports you into a world of relaxation, relieving pain and leaving you feeling invigorated and energetic. It is hugely popular for daytime activities and is known for its creative, calming, uplifted, happy, focused, and energetic effects. Expect a flowering time of 60-70 days with indoor yields of up to 700g/m² and outdoor yields of up to 2.5kg in excellent conditions. Don't miss out on this sparkling new addition to the Barneys Farm catalogue!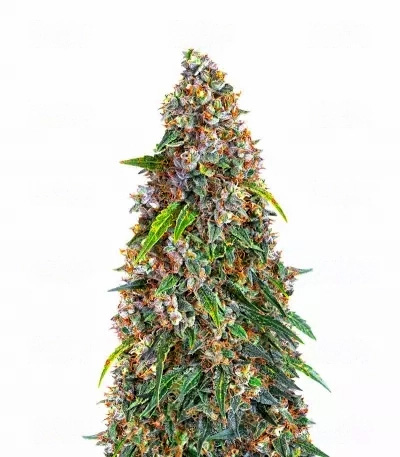 Strawberry Cheesecake Auto
For those seeking a different experience from the best strawberry weed strains, Barney's Farm has a mouthwatering delight in the form of their Strawberry Cheesecake Auto cannabis seeds. This autoflowering and feminized strain is 75% Indica and 25% Sativa, with a THC level of 21%. The unique twist of this strain comes from the selective breeding of various strawberry terpene-rich strains, resulting in a subtle Strawberry Pie pheno. This was then crossed with a rare cutting of an Afghan OG to give the plant rapid growth, incredible production capabilities, and a strong forgiving structure. The Strawberry Cheesecake Auto strain can also thrive in cooler climates, making it larger than most autos but perfectly compact. The buds are covered in a thick layer of trichomes, giving them a sticky, resinous feel with deep orange flowers indicative of delicate icing on a cake. The aroma is a blend of sweet goat's cheese, aged earthy skunk, strawberry hash, and fresh wild berries. With its earthy, strawberry, and cheesecake taste, this strain is perfect for those looking for a unique experience.
Final Thoughts on Strawberry Weed Strains
The popularity of strawberry cannabis strains is not without reason. With their unique and delicious taste, as well as their potential effects, it's no wonder that these strains have gained a devoted following. Whether you're a recreational user or seeking potential medicinal benefits, there is a strawberry cannabis strain out there for everyone.
If you're looking to try something different from strawberry strains, then we would recommend checking out lemon weed strains or pine-smelling strains. Lemon strains are known for their citrusy aroma and taste, which can be a refreshing change from the typical earthy or fruity flavors. On the other hand, pine-smelling strains offer a more foresty and resinous aroma, reminiscent of a walk in the woods. Trying out different strains with unique flavors and aromas can be a fun and exciting way to explore the world of cannabis.