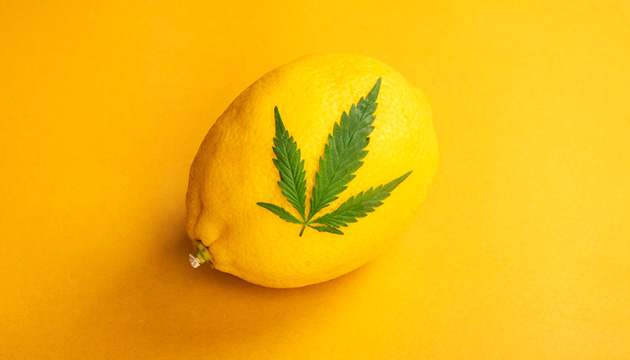 Lemon strains are like the first love for the burgeoning cannabis industry. It was the citrus-smelling varieties that used to receive most of the High Times Cannabis Cup awards in Amsterdam and elsewhere. Later, other interesting flavors were discovered, but lemon strains of weed are still as popular today as they were decades ago.
In this article, we'll talk about the best lemon weed strains on the cannabis seed market, find out what makes them so special, and say a few words about growing these plants to perfection - without losing the coveted citrus smell.
What Makes Lemon Weed Strains So Unique?
Lemon weed strains have their characteristic aroma because they contain high amounts of limonene. Limonene is just one of a whole class of natural chemical substances called terpenes. Limonene and other terpenes aren't unique to cannabis - many other plant species produce them, including (yup, you guessed it) various citrus fruits.
Terpenes aren't on any list of banned substances because they don't produce any intoxicating effects. However, that doesn't mean you won't notice any changes in your mood. Limonene, for example, has mood-enhancing properties. Imagine inhaling the aroma of fresh lemon - the mere thought will improve your mood a little or even make you smile. This is the science behind aromatherapy and the use of scented candles, and in lemon marijuana strains, the heady fresh smell of a lemon grove modifies the high, making it more happy and upbeat.
Sativa Lemon Strains
Lemon cannabis strains come in all shapes and sizes (or, rather, in every genetic makeup), and lemon Sativa strains are prominent among them. Many inherit their signature limonene terpene profile from a special citrusy cut of a classic indoor variety: Skunk.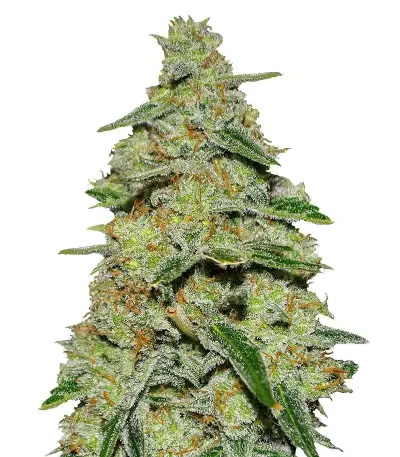 Lemon Cake
With its Skunky, cheesy, and lemony flavor and an extreme potency ensured by 23% THC, Lemon Cake is a very special treat that can be enjoyed any time of day. It appeals the most to Sativa lovers who appreciate the energetic and uplifting type of high. However, if you're an Indica fan, you'll fall in love with the mellow relaxing part of this weed's largely cerebral influence. This universal crowd-pleaser comes from Heavyweight Seeds, which means your harvest will be plentiful both indoors and out.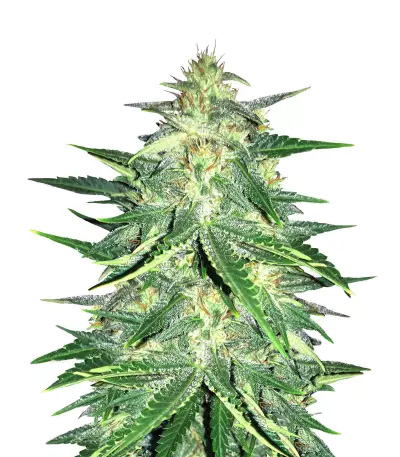 Lemon AK Auto
With even more THC (up to 24%) and more Sativa influence in its DNA, Lemon AK Auto from FastBuds offers an electrifying high that won't let you stretch your feet even for a minute, keeping you restless, adventurous, and social to the extreme. It also smells great - besides the classic lemony fragrance, you'll find notes of even more exotic citrus fruits, while the smoke will leave a delicious earthy taste on your palate. Use this mood-boosting medicine against depression and stress, or just to have massive fun after work or on a weekend.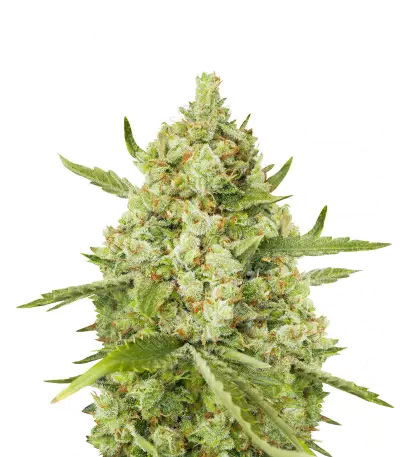 Super Lemon Haze
Two-time HTTC winner in the Best Strain category, Super Lemon Haze from Green House Seeds is a legend. A cross between Lemon Skunk and Super Silver Haze, you may encounter phenos that take after one parent or the other. In any case, the smoke will be exceptional, filling you with unbounded joy and taking your energy, creativity, and focus to the next level. The strain is sweet and citrusy with a fantastic earthy background - if you give the buds a proper cure, of course. Despite her celebrity status, this variety is low-maintenance and easy to grow, and nor does she get too tall or take too long to finish.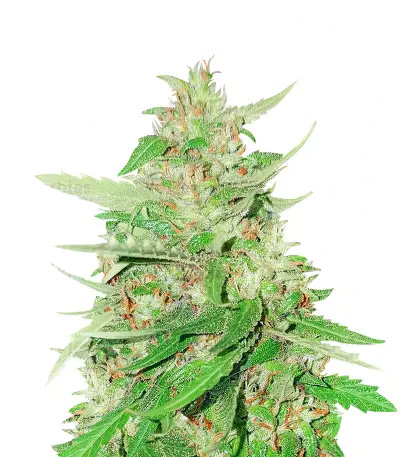 Franco's Lemon Cheese
Franco's Lemon Cheese is the tribute to the late Franco Loja, and GHS wouldn't put this name on a strain that wasn't an all-round winner. This weed's recognizable smell of zesty lemon and funky cheese is the main reason to grow it, but you'll also go crazy for its beautiful smoke that's like an injection of pure joy. Your depression, stress, and anxiety will melt away, and you'll feel enough energy and creative juices to accomplish anything you've been procrastinating about. The 21.58% of lab-tested THC will make this cerebral stimulation both strong and long-lasting.
Amnesia Lemon
There's something about the combination of Skunk and Haze that makes it a constant source of inspiration for breeders. Amnesia Lemon from Barney's Farm is just another improvisation on the same theme, and you can be the judge on whether it's better than others. This plant mixes the extreme juiciness of fresh lemons with a crazy Sativa rush that various Hazes, including Amnesia, are so famous for. This high-tolerance strain really makes it easy to forget where you are and what you've been doing by turning the world into a bewildering yet magical place. However, you can learn to smoke these buds in moderation and use them for motivation and focus.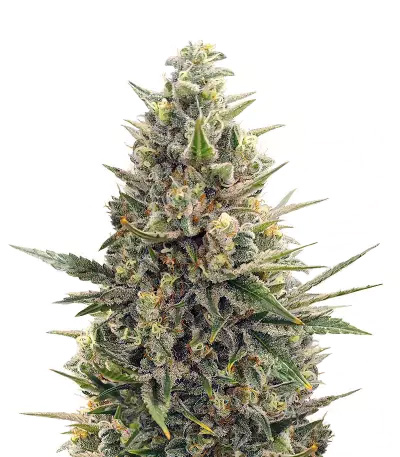 Amnesia Lemon Kush
What happens when you take a famous Skunk-Haze cross and combine it with the third pillar of modern cannabis breeding, OG Kush? Amnesia Lemon Kush from Original Sensible Seeds is proof that the result is fantastic. Pure Kushes often have lemon notes, but in this hybrid, the lemon flavor is a whole new game. Loud and intense, it ushers in a high that launches fireworks in your head and blissfully relaxes your body at the same time. When high on this, you'll roam the furthest reaches of human thought without leaving your couch - a perfect combo for those who want to not just unwind after a busy day but end it with a flourish.
Indica Lemon Strains
Indica strains with a lemon taste aren't that rare either, as there are ways to take the same Lemon Skunk DNA and work with it so that the coveted flavor remains but the genetic makeup is brought nearer to the Indica side with its relaxing and sedating properties.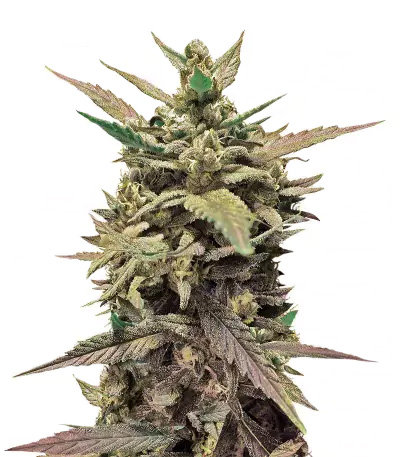 60 Day Lemon Autoflower
Autoflowers that finish in 2 months from seed aren't that rare now, but 60 Day Lemon Autoflower from DNA Genetics was one of the first on the market. This classic carries the hardy and practically unkillable genetics of Lemon Skunk and is the perfect choice for a beginner gardener. You'll be surprised how little effort it takes to grow a plant that stays small and discreet but announces its presence to the whole neighborhood with its piercing lemon pungency. Whether you're anxious, depressed, or just exhausted after a long day, this aromatic treat will provide instant euphoric relaxation.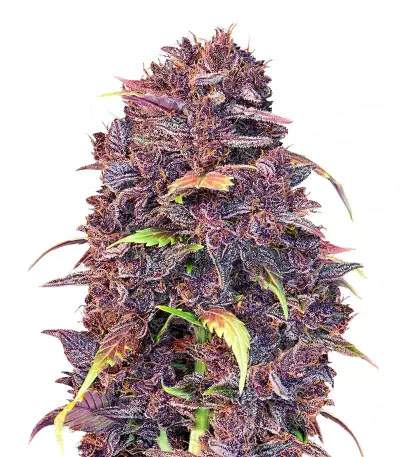 Purple Lemonade Auto
Purple Lemonade Auto is a colorful Indica-dominant autoflower and FastBuds' most advanced Purple genetics yet. This marvelous citrus strain is like a gulp of a cold refreshing drink when you're hot and thirsty. The experience starts with an amazing sweet-and-sour citrus flavor and proceeds to make you as high as you've ever been - the 22% THC takes care of that. The hybrid effects start as something Sativa-like - upbeat, optimistic with social tendencies, and plenty of giggles bubbling just under the surface. Then, it lets you take a rest with your feet up and not a care in the world. The cultivar is just as versatile as the smoke and brings generous yields both indoors and outdoors, as well as on balconies and terraces.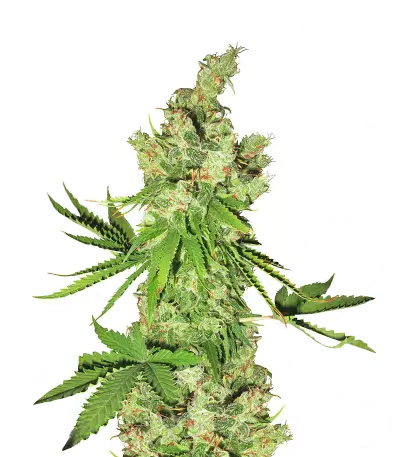 Lemon OG Kush
Although Lemon OG Kush from DNA Genetics is 60% Indica and its main effects are those of heavy-handed couchlock, it has just enough Sativa influence to also make the high very trippy, especially at the onset. With 24% THC, you can count on a rollercoaster ride for your thoughts and sensations, while the lemony taste will dare you to draw another toke - and yet another. Moderation is an almost impossible task with these delicious buds, so make sure you've finished your work and done all your chores before partaking.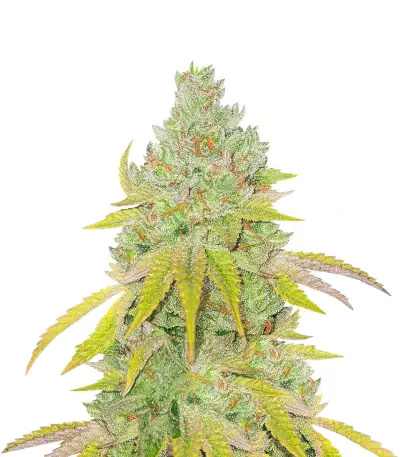 Lemon Tree
Lemon Tree from Barney's Farm stands tall among lemon Indica strains, as these seeds produce gigantic bushes with insane productivity, especially outdoors. Harvesting more than 3 pounds (1.5 kg) from one plant is satisfying, but you'll appreciate the quality of your buds even more than the quantity. The larger-than-life lemony stench is equally intense in the jar and the bowl, and the relaxation that the smoke produces is so profound that it'll make your knees weak. Prepare to gape and giggle for several hours, as the 25% THC will hardly let you do anything else.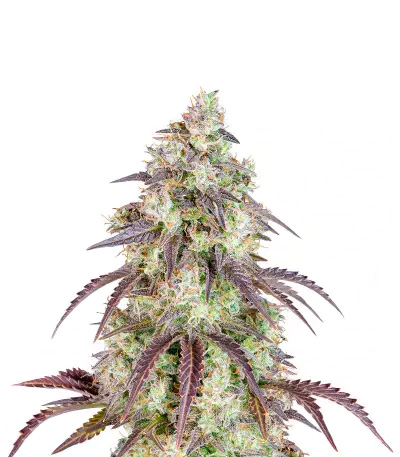 Lemon Pie Auto
If citrus zest and sweet dough mix so well in the kitchen, the same combination produces a delicious result in weed, too. Lemon Pie Auto from FastBuds has an amazing flavor perfectly captured in its name. It also creates a loud body buzz, with waves of euphoria washing over you and a torrent of bright thoughts filling your head. Approach this treat with caution though, even if you're a long-time smoker, as 24% THC is no joke.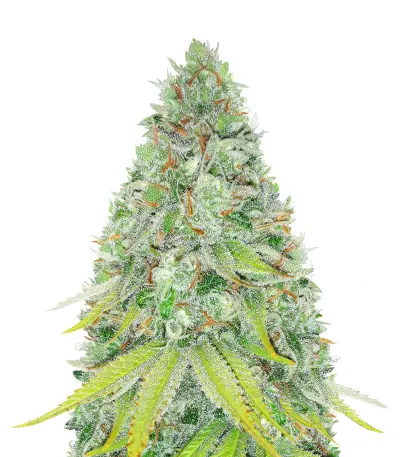 Lemon Skunk
Lemon Skunk by Green House Seeds is a 50/50 hybrid, but the effects are more Indica-leaning. This weed's THC level hovers just under 20% (19.12%, to be exact), but GHS have their buds lab-tested, so you'll find this 'medium' cannabinoid content surprisingly powerful. Brace yourself for a high that'll fill your body with bliss but make your extremities feel like barbells - an ideal combination to unwind late at night, preferably solo.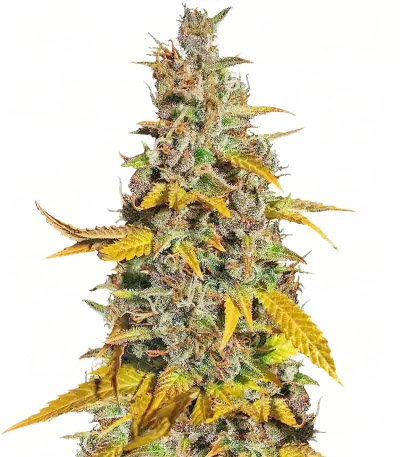 Lemon Kush
We've already mentioned that many Kushy phenotypes have strong citrus notes, and in Lemon Kush by Female Seeds, this tendency has been enhanced by careful and clever breeding. It's an unmistakably Indica plant in all respects - broad leaves, compact size, huge central cola, and enormous, dense buds - but the effects may appeal more to Sativa lovers. The high starts all in the head, making you crave action and company, and after a while, settles in your body in the form of a happy, giggly buzz.
Lemon CBD Strains
When choosing from among lemon weed strains, don't ignore CBD-rich varieties. Even recreational smokers will be delighted by their mild but pleasurable high, while medical patients will get all the relief they need without the adverse effects of high THC levels.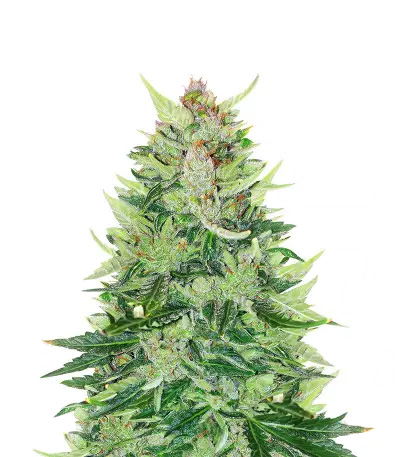 CBD Lemon Auto
CBD Lemon Auto from Herbies Seeds is a next-generation autoflower whose chemical composition is nothing short of miraculous. This cannabis strain has 17% THC and 17% CBD. Add up these two figures and you'll see that more than a third of the weight of dry flowers is pure cannabinoid content. If that isn't impressive enough, the buds also pack plenty of lemon-scented terpenes to make it one of the most mouth-watering strains on the market. The smoke is potent but in a gentle way, as the hard-hitting effects of THC are moderated by the calming CBD influence.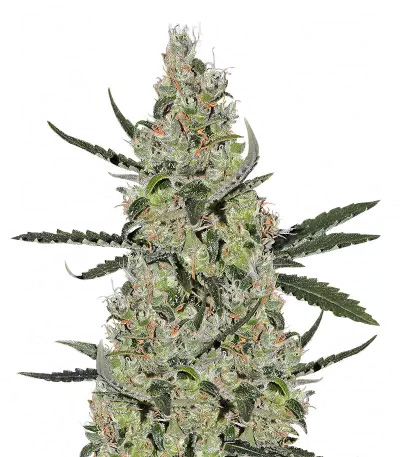 Super Lemon Haze CBD
For a strain of weed that enjoys cult status, it's only natural to expect the release of a high-CBD version sooner or later. In Super Lemon Haze CBD, the Green House Seeds managed to increase the levels of cannabidiol from close to zero to a respectable 9-10% while retaining all other properties, including the signature lemon scent. The THC content hovers around the same level as CBD, contributing to its healing properties while making the treatment with this medical marijuana so much more fun.
Growing Lemon Cannabis Strains
There's nothing special about growing lemon cannabis strains except maybe some tips on how to retain the richly-scented lemon fragrances and flavors and how to deal with the terrific skunky smell that you're sure to get during the flowering stage.
Start by germinating weed seeds in a paper towel - this method is very straightforward and ensures the best success rates - then put the seed in the soil. Always choose organics if your primary goal is aromas and tastes. Don't overfeed your plants either - try not to exceed the dosages specified on the label, and alternate between giving your lemon-scented ladies a nutrient solution and plain water.
Different lemon strains start to really stink at different stages of flowering (and some even in veg), but none of them are discreet, so always install a carbon filter indoors or keep your distance from neighbors' fences outdoors. Make sure to lower the daytime temperature by a few degrees in the flowering stage, especially closer to harvest. Terpenes are volatile substances, and their evaporation increases when it's too hot. If you grow autoflowering weed strains that smell like lemon and decide to go for outdoor or greenhouse cultivation, choose the part of the growing season that isn't the hottest.
Lemon-smelling strains will benefit from a slower than usual drying and curing process, so don't rush things by using fans that blow directly on your drying plants, and always keep the temps in check. However, don't overdo this either, as mold is a constant threat. Follow these simple tips and of course, buy your lemon-scented weed strains from a reputable shop such as Herbies, and you'll never run out of jars full of aromatic and potent buds. Happy growing!